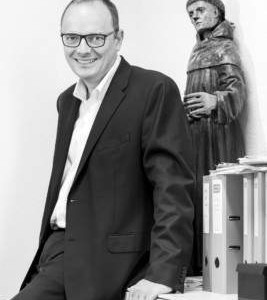 Bizzozero Alessandro Founding Partner - Chairperson
A licensed lawyer with a doctorate in law, Alessandro has more than 30 years of experience in the banking and regulatory field, in roles such as Deputy Director of the Authorization department at the Swiss Federal Banking Commission (now FINMA), Director at PWC Switzerland, and Head of Group Compliance at an international banking group.
A former Director of the CAS in Compliance Management course and lecturer at the University of Geneva, he still teaches at HEG ARC in Neuchâtel, as well as on the CAS in Compliance Management course in Geneva and at the Centro Studi Villa Negroni in Lugano. In addition, he often facilitates seminars and gives speeches on several regulatory topics, in Switzerland and aboard.
He is also the author of several publications, including:
Bizzozero: Le contrat de gérance de fortune (thesis, 1993)
Collective work: Le monde et la pratique bancaires suisses (1995)
Bizzozero: Situation juridique de la banque relativement à l'activité d'un gérant indépendant
(Thévenoz, Journée 1996 de droit bancaire et financier, 1996)
Bizzozero, Zufferey: Le champ d'application de la Loi fédérale sur les fonds de placement.
(Aktuelle Juristische Praxis AJP, N°1 1996)
Zufferey, Bizzozero, Piaget: Qui est négociant en valeurs mobilières ? (co-author, 1997)
Bizzozero: La legge federale sulle banche
(Bernasconi, Choppard: Novità legislative per le attività bancarie svizzere, 1997)
Bizzozero: Investment funds with special risks (Banco News No 3, 1997)
Bizzozero: Gli interventi della Commissione federale delle banche in merito alla gestione patrimoniale
(Chopard: Sulla gestione patrimoniale, 1997)
Bizzozero: Les gérants de fortune au regard de la loi fédérale sur les bourses et le commerce de valeurs mobilières (Bulletin ASG No 38, 1998)
Bizzozero: LBVM – Dispositions transitoires pour les négociants (Der Schweizerischer Treuhänder Nos 6-7, 1998)
Bizzozero: Les interventions urgentes de la Commission fédérale des banques (Bernasconi, Choppard: Mesures provisionnelles et judiciaires administratives, 1999)
Bizzozero, Fehlmann: Le regole del gioco (Ticino Management, 2000)
Bizzozero: Gestion de fortune : Risques de violation de normes prudentielles (Bernasconi, Choppard: Responsabilités légales dans la gestion de fortune, 2001)
Collective work: Droit de la concurrence (Commentaire romand, 2002)
Bizzozero, Berclaz: The new Swiss Ordinance on the Prevention of Money Laundering (Swiss Derivatives Review, No 24, 2004)
Bizzozero: Le projet de circulaire CFB sur le contrôle et la surveillance internes (Journée 2005 de droit bancaire et financier, 2006)
Gianella, Bizzozero: Obblighi di diligenza nella relazione con la clientela (Erez, Nasciutti: Compliance Management, una guida per il settore finanziario, 2009)
Bizzozero: Directive sur les gestionnaires de fonds d'investissement alternatifs (Journée 2009 de droit bancaire et financier, 2010)
Bizzozero, Robinson: Activités financières cross-border vers et depuis la Suisse, 2010
Bizzozero, Maillard: Gérants indépendants – Gestion des risques par la banque dépositaire, 2013
Bizzozero: Obligations d'éclaircir et de corroborer au regard des règles anti-blanchiment (Blanchiment d'argent, Genève, Schulthess, 2014, pages 139-152)
Bizzozero: Le démarchage de l'établissement de relations d'affaires (Services financiers: Suisse et Union européenne, Geneva, Zurich, Basel, 2016, pages 43-79)
Bizzozero, McGrant, Bartels: After Brexit – Cross-border financial services from the UK into the EU, Zurich, Basel, Geneva, 2017
Bizzozero, Falletti, Meregalli Do Duc: Le mandat de gestion de fortune, Zurich, Basel, Geneva, 2017
Bizzozero, Maillard: Organisation appropriée (Erez Giorgietti: Compliance 5.0, Vezia, Basel, 2019, page 73 et seq)
Alessandro is a member of the Boards and Audit and Risks Committees of several banks and financial institutions in Geneva, Lugano and Beirut.
Contact Information

Rue de Vermont 62,1202 Geneva,Switzerland